Practical information
Find here all the practical information to prepare your visit of the castle of Pierrefonds.

From May 2nd to September 4th
9:30 am - 6 pm
From September 5th to April 30th
10:00 am - 5:30 pm
Attention: last access to the monument, one hour before closing time.
The park closes 45 minutes before the monument closes.
Closed on January 1, May 1 and December 25.
The ticket gives you access to the whole monument and its park.
For individuals

Individual rate

8 €

Special rate (partnerships)

6,50 €

CEZAM card holder
Vielles Maisons Françaises cardholder
Société des Amis du Louvre cardholder
SNCF INOUI loyalty card holder
Holder of a full-price admission ticket to the Château de Compiègne
Holder of a full-price ticket for the Musée privé d'Art et d'Histoire de Pierrefonds
Holder of a full-price ticket or e-ticket Liberté or Pass Aventurier adult of the Sea of Sand
Holder of a full-price 1-day individual ticket or e-ticket or a subscription card or e-subscription for solo and tribe at the Château de Chantilly
Holder of a Sherwood Parc personalized Club des 7 bracelet
Holder of a full price ticket or e-ticket or a "friends of Royaumont" membership card from the Abbaye de Royaumont
Holder of a full-price ticket for the Château d'Écouen

Twinned tickets

Twinned ticket château de Pierrefonds - château de Coucy
Full price
10 €
Combined ticket château de Pierrefonds - château de Coucy
Reduced rate
8 €

Free of charge

Under 18 years old
18-25 years old (citizens of European Union countries and regular non-European residents on French territory)
Disabled persons and their companions
Job seekers (upon presentation of a certificate of less than 6 months)
Education pass (valid)
The first Sunday of January, February, March and November

See details of the free admission conditions below
Group rate

6,50 €

From 20 paying adults
Any person coming with a tourism professional with no minimum number of people
Visit tool
Audioguide

Audioguides are available in 4 languages (French, English, German, Dutch).


3 €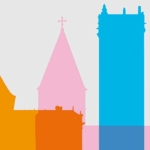 Site
Are you a heritage lover? For 1 year, discover more than 90 monuments all over France!
cash
credit cards
check
culture check
vacation vouchers (ANCV) only in ticket offices
Lire check (only in the store)
Access and transportation
BY CAR
A1 from Paris, exit n° 9, then D 200 to Compiègne and D 973
A1 from Lille, exit n° 11, then D 935 to Compiègne and D 973
Nationale 31 from Reims to Compiègne then D 335
Nationale 31 from Rouen, continue on N 31 to Compiègne, then D 973
The castle of Pierrefonds is located in the heart of the village of Pierrefonds.
Numerous parking lots are available.
Free parking on rue Sabatier, 10 minutes from the castle.
Possibility to go up to the castle with the little tourist train.
BY BIKE
The commune of Pierrefonds is located on the cycle routes of Compiègne à Vélo via Vieux Moulin or Saint Jean aux bois (15 km).
Bicycle parking: 10 places on the esplanade.
PIERREFONDS TOURIST TRAIN
From April 1 to October 31, departing from the General de Gaulle Square (behind the Town Hall)
Information and reservations on petittrain-pierrefonds.fr
Services and conditions of visit
Dogs not allowed in the castle and kept on a leash in the park
Strollers allowed in the park, not allowed in the castle
Stroller parking in the main courtyard
Photos allowed in the castle without flash
Cane seats are available at the beginning of the visit.
Drop-off point on the esplanade for PRMs (persons with reduced mobility)
2 parking spaces for PRM on the esplanade
Discover the services and conditions for people with disabilities.